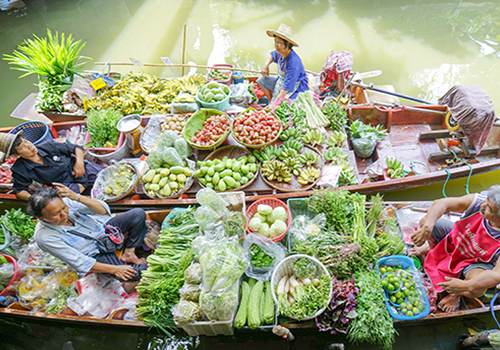 Damnoen Saduak Floating Markt (7 hours): Mae Klong Railway Market, House-made sugar making from coconut blossom.
Price:  US$250 per group (1-6)                                                                                                                                                                      Price is included a private car but not included a long-tailed boat, snack, and lunch.
Itinerary
Starting time at 7.00 am.
Your guide will meet you at your hotel and escort you to the most famous Floating market in Thailand, " Damnoen Saduak " in Ratchaburi Province (about 90 minutes southwest of Bangkok).  We will be passing a salted farm with the salted products selling on the side road and once we arrive at the Railway Market we will stand at some points watching a train coming through and on both sides of the rail all food products will be removed when the train comes in and push its back when it passes it's an amazing sight.  Afterward, we will continue on driving to see how people in the coconut village make sugar from the coconut blossoms including the household appliances on the property.  At some distance away from the house, is a boat pier we will go for a long-tailed boat, riding toward the Floating Market, and when we approach there you are free at leisure to shop, to photograph the abundance of the flat bottom boat selling foodstuffs, fruits, souvenirs to visitors.  Finally, your guide will escort you to go for lunch at a local restaurant prior taken you back to Bangkok and dropped off at your hotel.