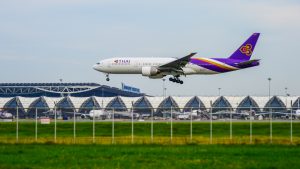 If you have 6 hours or more layover in Bangkok, why not let us show you the highlights of this angel city 
Price:  US$150 per group (1-4)                                                                                                                                                                     Price is not included transport, entrance tickets, lunch, snack, and boat.
This is the PER GROUP price, i.e., it's the price for a private group of 1 to 4 people. For example, if there is one person booking a Bangkok layover tour, the price is US$150 in total. If there are four of you, the price is still US$150 (making it much cheaper per person). The tour group is private. That means there is only you and your family or you and your friends on the tour and no one else. Please note that we do NOT put different individuals or groups together, even upon request.
Meet at the airport (in front of the Left Luggage room)
Travel to the city by the airport rail link and continue to get on to the places by public transport like sky train or underground train, taxis, or three-wheelers vehicles.
The tour will focus on the old quarter of Bangkok where points of interest are built in the area such as The Grand Palace & the Emerald Buddha Temple, Wat Po the gigantic Buddha in the lying position, kings' monuments, shrines, and much more.  Wat Arun with its magnificent pagoda, Chinatown, Flower Market, and a pleasurable cruise on A long-tailed boat, riding along the canals where you will see the way of life on both sides.
The tour should not be longer than 8 hours and if it is exceeded the extra charge will be applied. I will appreciate it if you could let me know the time to be returned for a better schedule that suits you. In addition, you can customize your own schedule as you wish. At the conclusion of the tour, you will be taken to the airport rail link terminal in the city and you travel by yourself back to the airport.