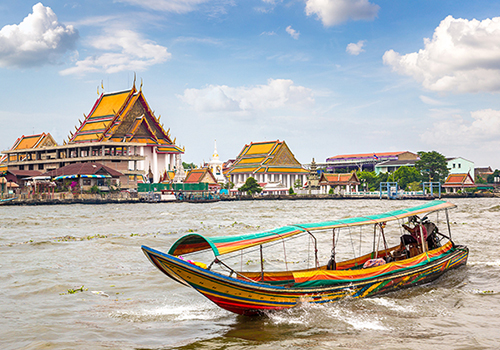 Bangkok (4 hours): Flower Market, Reclining Buddha Temple, Wat Arun, Canals tour.
Price:  US$110 per group (1-6)                                                                                                                                                            Price is not included transport, entrance tickets, and boat.
This is the PER GROUP price, i.e., it's the price for a private group of 1 to 6 people. For example, if there is one person booking a four-hours walking tour, the price is US$110 in total. If there are six of you, the price is still US$110 (making it much cheaper per person). The tour group is private. That means there is only you and your family or you and your friends on the tour and no one else. Please note that we do NOT put different individuals or groups together, even upon request.
Itinerary
Starting time at 9 am or 1 pm.
Your guide will meet you in the lobby of your hotel and then escort you to the famous Bangkok Flower Market (Pak Klong Talad ), which is the feast for the senses and the photographer's paradise. We will then head to Wat Po, the awesome Temple of the Reclining Buddha.  Afterward, we will take a ferry crossing the Chao Praya River to Wat Arun the stunning pagoda and one of the city's landmarks. Finally, we will take a one-hour tour of the canals on a small long-tailed boat.  At the conclusion of the tour, you will be taken back to your hotel.
In addition to the places of interest stated in the itinerary.  If you would like to dismiss some places then you are welcome to pick one of these places for substitution Wat Kanlayanamit, Wat Prayurawongsawat, Museum of Siam.
Canals

Flower Market

Reclining Buddha in Wat Po

Wat Arun